Business handsets have been at the core of company communication for decades. Telephones make connecting to customers and completing business transactions easier. To this day, businesses benefit from the revolution of the telephone. Whether your business is a one-man show or a large enterprise, handsets are essential for internal and external company communication. Undoubtedly, the range of business phones available is extensive. Different brands offer handsets with varying attributes, which makes it difficult to choose the right ones for you. Products range from basic desk phones to receptionist phones and all have specific functions. At TRUENAV we assist you to find business telephones to suit your specific needs and requirements. We breakdown the functions of each handset we offer to ensure you select the most optimal devices for your business:
1. Basic Desk Phones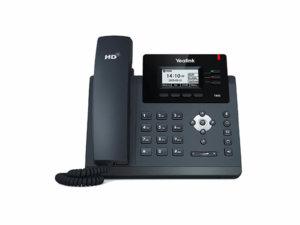 The basic desk phone is the most common device amongst businesses. It enhances daily business processes and operations and is a handset that's easy to use for all your employees. We offer traditional analog phones with features such as enabling speakerphone, redials, hold button functionality and more. However, new designs in basic desk phones provide more modern functions. For example, IP connection, HD audio, paper label-free designs and enhanced call management. This Yealink T40P Basic 10/100 IP Phone is revolutionary in telephony design. Its modern functions provide businesses with up-to-date technology in order to remain at the forefront of business communication.
2. Call Centre Operator Handsets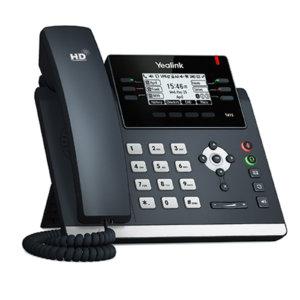 Call centre operator handsets are optimal for superior business communications. In comparison to the basic desk phone, these phones provide extended functionality. Especially when offering multiple-line IP connections with built-in programmable keys to enhance productivity. Not only this, some top functions include Bluetooth, Wi-Fi and USB recording ready features, HD Optima Voice, expandability and 3-way conference call ability.
3. Conference Phones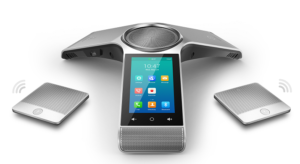 A conference phone is a great choice for any business that frequently meets with multiple parties. Optimise your meetings with a handset that can offer up to 12 participant meeting rooms, expansion microphones and WiFi & Bluetooth compatibility. Additionally, this Y-shaped conference phone allows all functions to be easily accessible at your fingertips. Parties are able to join meetings from different locations and all calls can be recorded for later use. This allows your business to cut costs and save time, where valuable meetings can run without a hitch.
4. Cordless Handsets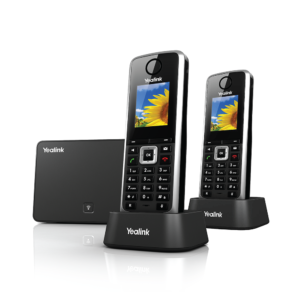 Cordless phones are commonly used in small and medium-sized businesses. The benefit of going cordless is its manoeuvrability within the workplace. Moreover, these handsets are not desk-bound and easy to use. Benefits also include multi-tasking convenience, freedom of movement, immediate cost saving, multiple users and scalability. Whether you need one phone or one hundred, these handsets are easily scalable depending on your business requirements. Some added cordless phone functionality includes smartphone user experience, app integration, concurrent calls and IP connection.
5. Manager/Secretary Desk Phones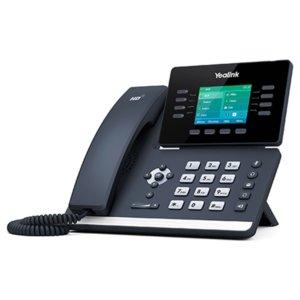 Similar to basic desk phones, manager/secretary phones work to simplify business communication and operating processes. However, these phones are designed for busy executives and professionals. Manager/secretary handsets have the ability to program keys, add multiple VoIP accounts, use a headset, enable a speaker function, optimise button layouts for quick calling and more. These phones are optimal for managers and secretaries with a high influx of calls every day. In addition, the design of each handset we offer ensures calls can be easily made and received in order to make business communication more efficient.
6. Receptionist Desk Phones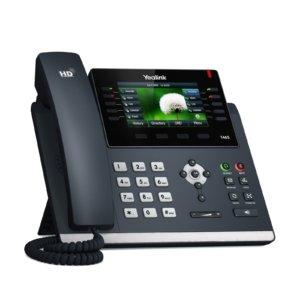 Undoubtedly, some may think a manager/secretary and receptionist phone are identical. It should be noted, these handsets differ in their functions in order to best serve specific employee roles. The primary connection to your business usually goes through the receptionist. With this in mind, receptionist phones ensure audio connections are uninterrupted and as clear as possible. Unquestionably, rapid call handling is a necessity amongst receptionists and with a specially designed phone, that is made possible. Other functions include Gigabit network interfaces, full-colour LCD display, Bluetooth, WiFi and USB recording, expansion models, multiple VoIP accounts, call forwarding, headset ports and more.
7. Video Handsets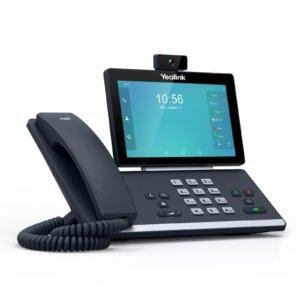 Executive video phones provide businesses with enhanced audio and visual communication. These smart-media phones enable enhanced communication with the ease of a standard phone. In addition to this, handsets are WiFi and Bluetooth integrated and offer a user-friendly multi-point touch screen. Ultimately, with a built-in web browser, calendar, recorder and more this device is superior in its functionality to the traditional desk phone. Enhance your meetings, calls and customer interaction with a telephone that will shift your business to the forefront of telecoms technology. Do you need more expert advice on which business handsets to choose for your organisation? For all your telephony device queries, contact TRUENAV today!